Plant of the month : Tonka Bean Brazil
28-07-2023
Delight yourself and bring "gourmandise" to your creations !
Leveraging 100 years of expertise in Naturals, they produce this delicious ingredient at their factory in Spain from responsibly sourced Tonka beans from Brazil.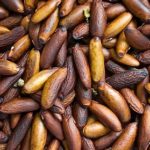 PRODUCT JOURNEY
Dipterix odorata is a tree producing fruits shaped like large almonds containing a single bean that wrinkles as it dries: the Tonka bean. Ripe fruits that have fallen to the ground are handpicked between August and September.
The shells are then cracked open to remove the beans, which are left to dry and mature, allowing the sweet and oriental notes of Tonka to develop.
The dried beans are transformed into concrete and finally into absolute at Albert Vieille's factory in Spain.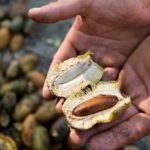 SOURCED RESPONSIBLY
They work with a local partner who coordinates with more than 500 bean collectors and whose activity is a source of income for more than 15,000 people in 30 villages in the Calha Norte region.
Collaborating with local actors contributes to maintaining a traditional economic activity, preserving natural ecosystems by fighting deforestation and ensuring traceability to the collection area.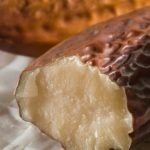 OLFACTORY DELIGHTS
A strong indulgent fragrance with powdery, almond and vanilla-like notes, nuanced by dry, woody and smoky facets. The main molecule of Tonka bean Absolute is coumarin which gives almondy, vanilla-like, hay and tobacco notes.
Tonka bean absolute is an essential ingredient in the fragrance family fougère. It also blends beautifully with floral, oriental and gourmand accords.
PRODUCTION VISIT
With more than a century of expertise in natural ingredients, along with in-house production of essential oils, absolutes and resinoids, they make the most of nature's gifts while having a positive impact on the Environment, People and Communities.
Retour
Haut de page