08-02-2023
Algae are powerful ingredients
100% natural, PEPHA® Clean Beauty by DSM Personal Care is a line of products developed through biotechnology to provide high quality and environmentally friendly cosmetic ingredients.
These microalgae are cultivated in laboratories and developed in photobioreactors for maximum sustainability of resources.
Rich in active substances, nutrients, vitamins, minerals and antioxidants, they are highly sought after for facial care.
– PEPHA®-AGE CB against UV and blue light:
INCI: Scenedesmus rubescens Extract
Aqueous extract of green microalgae rich in carotenoids composed of algal monosaccharides, trace elements and vitamins (B3).
Reduces aging and skin pigmentation caused by blue light (dark spots), evens skin tone.
Applications: day/night cream, sun product/after sun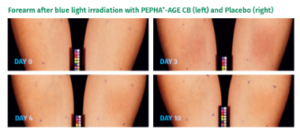 – PEPHA®-CTIVE CB for luminous and radiant skin :
INCI: Dunaliella salina Extract
Aqueous algae extract rich in amino acids, minerals, proteins and carbohydrates.
This ingredient energizes, illuminates, improves skin radiance and renews it faster (4-5 days faster).
Applications: serum and day cream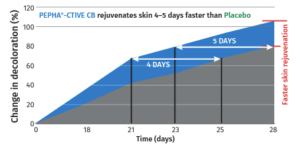 – PEPHA®-TIGHT CB for firmed skin:
INCI: Nannochloropsis oculata extract, Pullulan
Highly effective mixture of microalgae and polysaccharide.
Short and long term tightening and firming effect up to 13 times better than placebo.
Smoothes and lifts the skin, immediate effect, elasticity and reduces the surface of wrinkles by -20%.
Applications: face and décolleté serum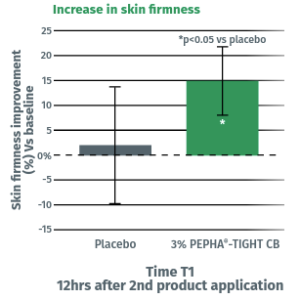 Retour
Haut de page