Inauguration of the new IES Ingredients site
24-06-2022
On Friday, June 10, 2022, all IES Ingredients employees were proud to inaugurate their new 3000m² eco-designed premises located in Allauch.
We would like to thank our suppliers: Givaudan, DSM Personal Care and Aroma Ingredients, Albert Vieille, Aethera Biotech and May Flower. Thanks also to Mayor Lionel de Cala, David Sussmann of Pure Ocean Fund.
The construction of the new buildings started about two years ago to expand and modernize the production and distribution site.
Today, the 3,000-square-meter space includes a larger storage area (five times the capacity) as well as dedicated loading and unloading areas that are better suited to the demands of customers – industrialists, brands and manufacturers. The administrative offices have also doubled in size to accommodate the development team. Finally, 3 application laboratories for cosmetics, perfumery and food flavors have been created on this new site. The purpose of the application laboratories is to develop and present presentation kits to our customers in order to highlight our ingredients for each sector of activity.
In the long term, digitalization is one of our future projects with the aim of improving stock management, CRM and providing a sales and service platform open to our customers with our entire catalog, order history, etc. The next step for IES Ingredients will be the opening of a 300m² storage space in Dubai to complement and meet the needs of our customers in the Middle East and Africa.
The inauguration was divided into two parts: the day was spent at the new site with our customers, partners, employees and the press. Then, the event continued until the evening with workshops, visits of the old port and tastings. During the day, our Perfumery and Cosmetic application laboratories were available to show the guests around and also to let them discover and test a beauty routine and an olfactory workshop.
The beauty routine was composed of 4 products including :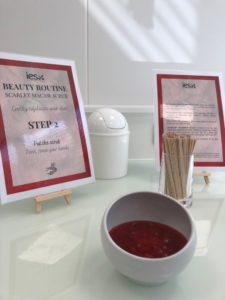 The olfactory workshop was composed of 6 materials, 4 synthetic and 2 natural:
Bergalin by DSM: with fresh, citrus and bergamot notes
Ambermax 10% by Givaudan: with amber, woody and cedar wood notes
Osmanthus absolute from China by Albert Vieille: with fruity, animal, leathery, floral and tea notes
Organic essential oil of fresh ginger from Madagascar by Albert Vieille: spicy, resinous, citrusy, earthy and woody notes
Velvione by Givaudan: musky, powdery and animalic notes
Isobutavan by Givaudan: with gourmand, vanilla, sweet and fruity notes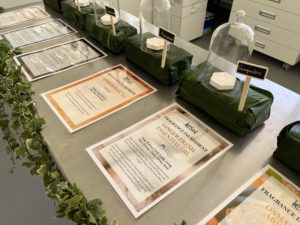 Finally, the entire IES Ingredients team would like to thank Mylène Cohen and her team L'évènement by M. as well as Protocole Agency for the organization of this beautiful opening.
The inauguration in a few pictures :
Retour
Haut de page